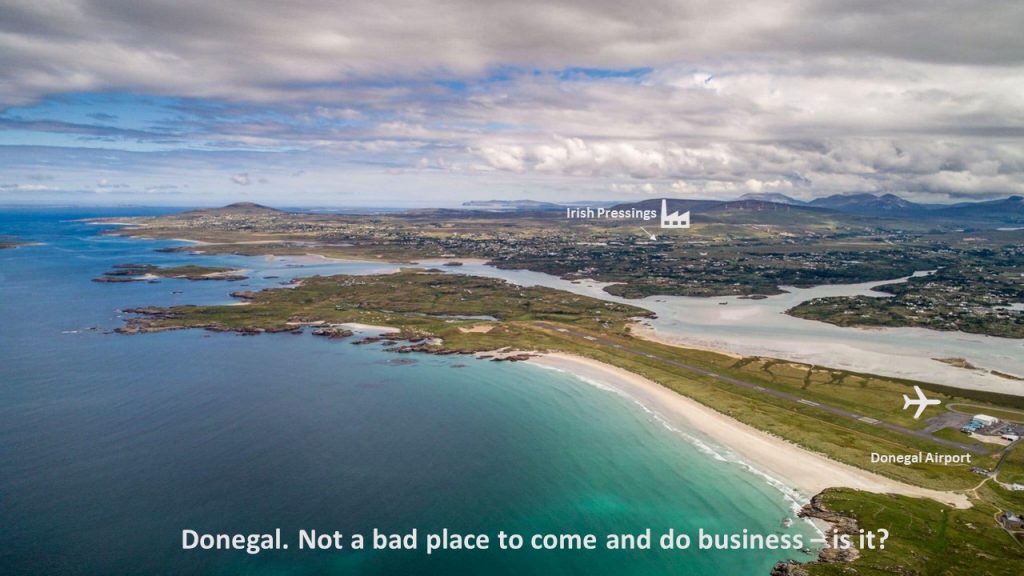 County Donegal – the home of Irish Pressings – is undoubtedly one of the world's most stunning locations. And that's not just what we think – Donegal was named the "Coolest Place in the World to visit" by National Geographic Traveller in 2017.
Donegal's wild coastline is so visually unique that it has been used in some of the world's biggest TV and Film productions with Star Wars: The Last Jedi one of the most recent productions to avail of the unrivalled scenery (Donegal was the location of Ahch-to Island for all you Star Wars fans).
As the County relies heavily on tourism, it is no wonder that much of the enterprise in Donegal is focussed on tourism and selling Donegal as an isolated wonderland for adventure enthusiasts.
"On the Edge of Europe", "a peripheral region", "next stop America" are all slogans you will see used by tourism promoters trying to sell Donegal as a visitor destination. But there is a flip-side to promoting a destination as a wilderness.
While this marketing strategy may help tourism, it tends to create a perception that Donegal is the last-bastion, almost impossible to reach, tucked away behind mountains and hammered by crashing waves. For manufacturing industries in Donegal, this "branding" can cause problems when trying to win new custom as Donegal can be perceived as difficult to reach and logistically challenging when in reality, it is anything but.
Located in Udárás na Gaeltachta's Páirc Gnó Gaoth Dobhair (Gweedore Business Park) Irish Pressings export produce across the world. The UK and Europe are Irish Pressings largest markets but the company also has extensive experience in shipping goods to the USA, Middle-East, and Asian markets also.
As we operate our own logistics operation, we have complete control over our delivery timing and schedules. This provides us with the flexibility required to meet each of our customer's specific demands. Current business requires our lorry to visit the UK twice-weekly with outbound loads of produce delivered direct to our customers, and inbound loads of steel and raw materials delivered directly to our door from our suppliers.
As an example, if we take a closer look at a customer requesting goods in Coventry, you can see that Donegal really isn't that far away. The Irish Pressings lorry can be loaded in our plant in Gweedore on a Monday evening – hitting the road at 5pm. Even accounting for driver breaks and the ferry crossing, our lorry can reach its destination – Coventry in this example – comfortably before the 8am start of business on Tuesday morning.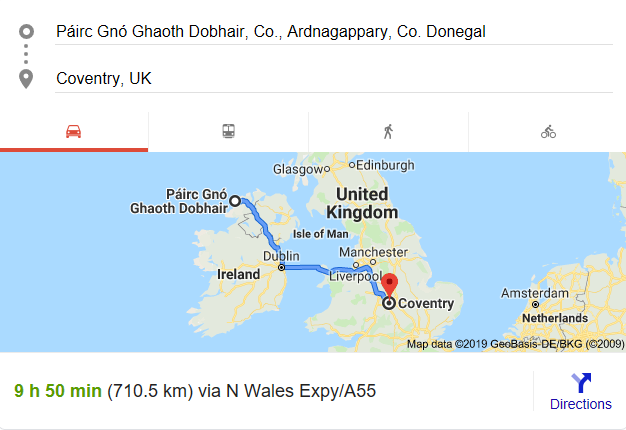 This example serves to highlight that in many cases we can literally provide a 12 hour delivery right to the heart of the UK. Similarly, mainland Europe (France and Germany) is reachable within 24 hours.
It is worth noting that our connectivity is not confined to delivery schedules. As with all business transactions, from time to time there will be a requirement for a physical visit to a manufacturer's premises – e.g. for auditing purposes, to conclude a business deal, to get an update on production progress, etc. Irish Pressings are very fortunate to be located less than 15-minutes drive from Donegal International Airport which services Dublin and Glasgow with onward UK and international connections. Alternatively, City of Derry (1.5 hours) or Belfast (3 hours) Airports offer a fly-and-drive option.
So to summarise – yes Donegal is beautiful, yes Donegal is on the edge of Europe, yes if you look out on the Atlantic horizon you can just about see the Statue of Liberty (slight exaggeration), but most of all YES – Donegal is easily connected to the UK, Europe and the World so come on…come and explore the beauty of Donegal safe in the knowledge that we have a world-class manufacturing facility that can deliver to your premises efficiently and effectively to meet whatever your requirements may be.