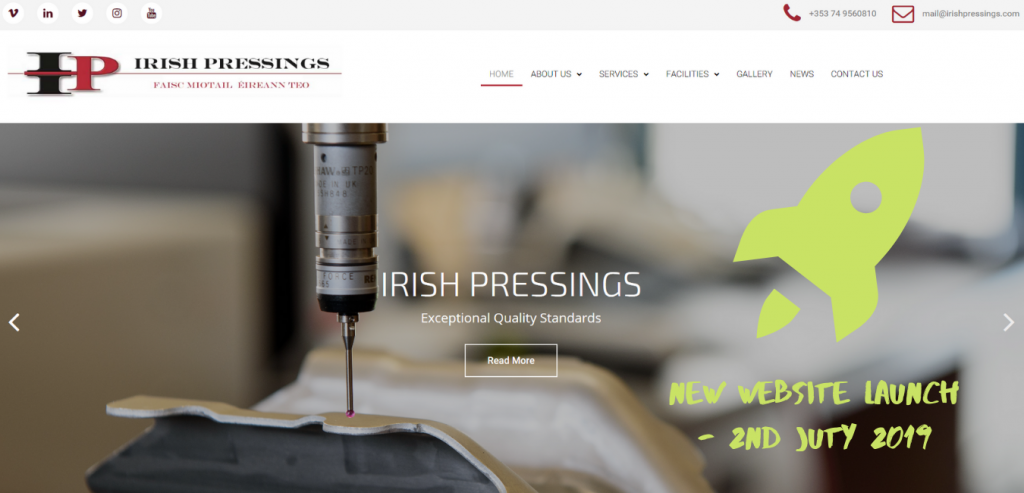 On 2nd July 2019, Irish Pressings – a tooling and metal stampings specialist company based in Co.Donegal – launched their new online presence at www.irishpressings.com.
Irish Pressings was founded in 2005 by trained toolmakers Brendan and Declan Ward. The Ward brothers have built an extensive portfolio of experience over the past 25 years to build upon their tool-making foundations – including experience in the area of pressed part production having worked closely with such industry leaders as Ford, General Motors, Toyota and BMW over the years.
Irish Pressings employs over 70 people at its' modern production facility located along the Wild Atlantic Way in Udaras na Gaeltachta's Gweedore Business Park, Co.Donegal, Ireland. Irish Pressings are a local company, operating globally.
Through hard-work, dedication and a commitment to quality, Irish Pressings has become a leader in the design and manufacture of press-tools, metal stampings, machining, and welded assemblies amongst other things servicing a variety of engineering industries – most notably the automotive sector – where we supply at Tier 1 and Tier 2 level to service end customers such as Jaguar Land Rover, Aston Martin, BMW, and Honda in the UK, mainland Europe and beyond.
It is anticipated that this new website and improved social media presence via LinkedIn, Vimeo, Facebook, Instagram and Twitter will help the company to have a greater reach globally and will assist in the ongoing strategy to identify and target new sectors and geographical markets.
Why not click on the link and see what you think!!
www.irishpressings.com