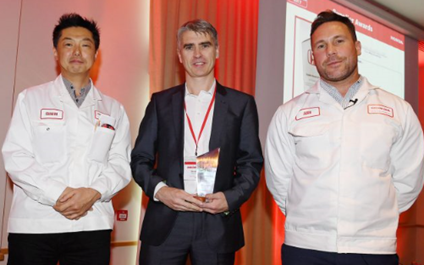 Irish Pressings Ltd – based in Co.Donegal, Ireland – walked away with the 2017 Honda Supplier Contribution Award at a glitzy award-ceremony in the UK.
Irish Pressings became an approved supplier to Honda in 2013, and following an impressive debut-year in production was able to secure Tier 1 supplier status with Honda early in 2015.
Since then Irish Pressings relationship with Honda has gone from strength-to-strength with the levels of technical support made available to Honda – in addition to the quality of the tooling and components manufactured – identified as one of the key strengths of the Irish Pressings service offering.
Facing competition from Honda's global supply-chain, Irish Pressings meteoric rise to Tier 1 supplier was appropriately recognised and serves to put this highly innovative and energetic company on a path to quietly rise to the top of the automotive supply industry.
This is a fantastic achievement for Irish Pressings and really helps to put us on the map. We were up against some industry giants for this award so to get this recognition shows that our service offering is as good as anything that is out there in the industry.

Declan Ward (Managing Director), Irish Pressings
For more information on Irish Pressings, follow on any of their social media streams – LinkedIn, Vimeo, Instagram, Twitter, Facebook, YouTube.
Honda Supplier Contribution Awards