Our capabilities
Irish Pressings has extensive experience in the design, feasibility and simulation, tool-making, and stamping of a wide-range of components – in a range of material types, grades and thicknesses – for the automotive sector.
Our capabilities and experience includes seating components, console components, steering column components, battery bases, engine mounting brackets, lighting bracketry/casing, mirror stanchions, suspension components, exhaust system components, spoiler components, trunk and rear bumper parts, all door-inner components, and front and rear bumper beams.
As customer demands move towards light-weighting of components, Irish Pressings is perfectly positioned to meet OEM requirements with 50% of our components now produced in aluminium (5000 Series, 6000 Series, Customer-specific grades, etc.).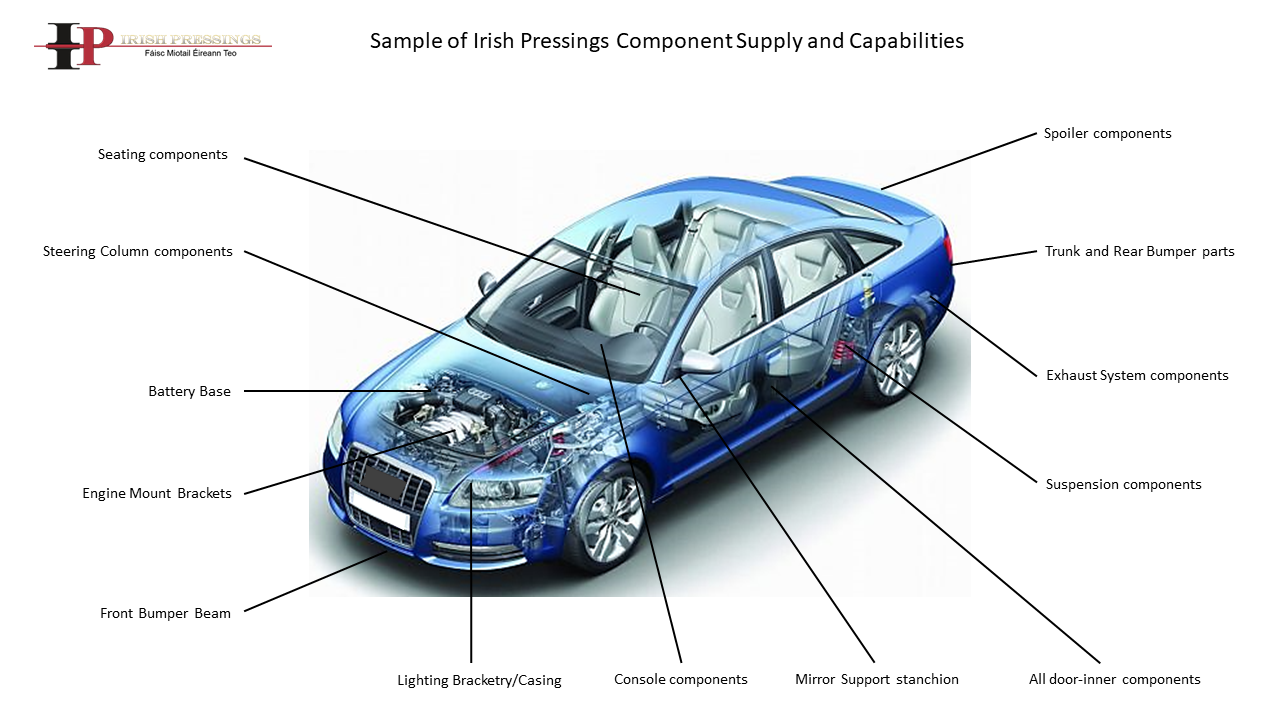 Our customers
We supply at Tier 1 and Tier 2 level to customers in the automotive sectors across the UK, Europe and beyond. We operate a fully-tracked logistics operation which allows us to operate a highly efficient delivery operation with daily and weekly deliveries departing our plant for end-customers in the UK, across Europe and as far as the Middle-East and USA.
We supply tooling and/or components to some of the world's largest OEMs and Tier 1 automotive suppliers including Honda (UK) – Tier 1, Jaguar Land Rover – Tier 1, Volkswagen, Opel, Ford, Bentley, Audi, BMW, Benteler International AG, DURA Automotive, Gedia Automotive Group, Kirchhoff Automotive, Magna International Autolaunch, and NSK Steering Systems. 
Irish Pressings is very proud that the 2019 World Car of the Year, the Jaguar I-PACE contained components manufactured here in the Hills of Donegal.